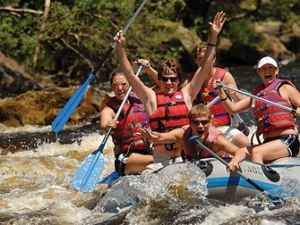 Whitewater Rafting
TIME TO GET OUT OF THE HOUSE!! Destination Pocono created this club to allow people to experience all that the Pocono Mountains has to offer. We will be offering meet-ups for whitewater rafting, canoeing, kayaking, skydiving, fishing, paintball, ATV riding, festivals, golf, biking, hiking, waterparks, Pro-Kart racing, NASCAR experience, skiing, snowboarding, tubing, Pocono Raceway ticket packages, wine tours, cooking classes, and more! This is the ultimate way to try something new or to experience something you love with new people. We get you the best prices at the best activities and attractions.
We will be adding new, unique opportunities to enjoy such as moonlight rafting, adrenaline junkie packages, wine and dines, haunted houses and more! You never know what to expect! Join Destination Pocono's 'Ultimate Pocono Adventure Club' and get ready to REALLY experience the Poconos.
Extreme Outdoor Fun
Want ton's of excitement and a great outdoor adventure? Watch our video below to see the amazing day others have had at White Water Rafting!
Whitewater Rafting on the Lehigh
What a way to start off The Ultimate Pocono Adventure Club! Time to do something!
The Ultimate Pocono Adventure Club is inviting you to go Whitewater Rafting! This is one of the best activities to try! Surrounded by state park protected woodlands and mountains, you will enjoy 12 miles and 5 hours of Class III whitewater rafting and outstanding scenery.
This is a fun, thrilling, and pristine trip that everyone from ages 8 and up can do…no experience necessary! While paddling over 17 rapids you'll scream, laugh, swim, and have an excellent day.
Need directions? … visit whitewaterrafting.com