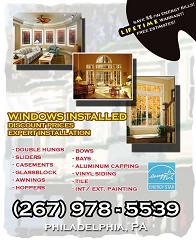 ALUMINUM CAPPING: PREVENT WOOD ROT * WEATHERPROOF * MAINTENANCE FREE
PHILADELPHIA WINDOW CAPPING: PREVENT WOOD ROT * FREE ESTIMATES
Get your windows capped! All exterior wood surfaces on your home need to be covered. Painting alone is not good enough for keeping out the elements. Cladding your exterior wood window, door, and fascia surfaces will make for years of worry-free care.
* Prevent CATASTROPHIC water damage!
* Never worry about rotting wood again!
* Weatherproof your home!
* Reduce drafts and save on energy bills!
* Never paint again!
* Increase the value and beauty of your home!
* MAINTENANCE FREE!
* — Don't risk drafts, leaks, rotting wood and peeling paint!
call us today at 267-978-5539